Solid liquid separation equipment Compact deslimer
Desilter is the third phase solids control equipment to handle the drilling fluids. Generally, there are a set of hydrocyclones in 4" or 6" in the desilter,desilter is the third phase solids control equipment to handle the drilling fluids. Generally, there are a set of hydrocyclones in 4" or 6" in the desilter, which mainly used for separating the solid particles sized in 15~47μm from the drilling fluids. The desilter cleaner mainly consists of shale shaker, hydrocyclones, distribution manifold, and electric control cabinet and desilter removes the solid particles from the drilling fluids which cannot be removed by shale shaker and desander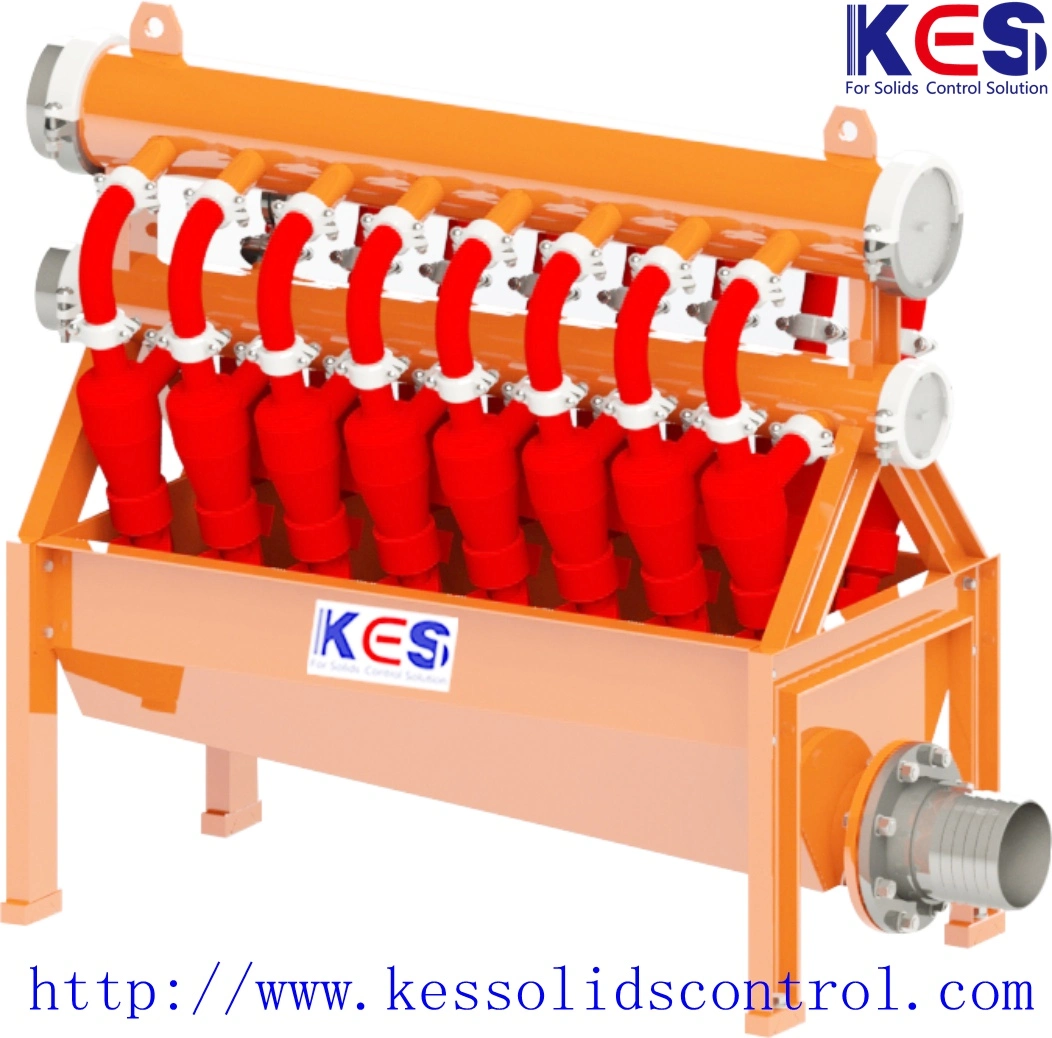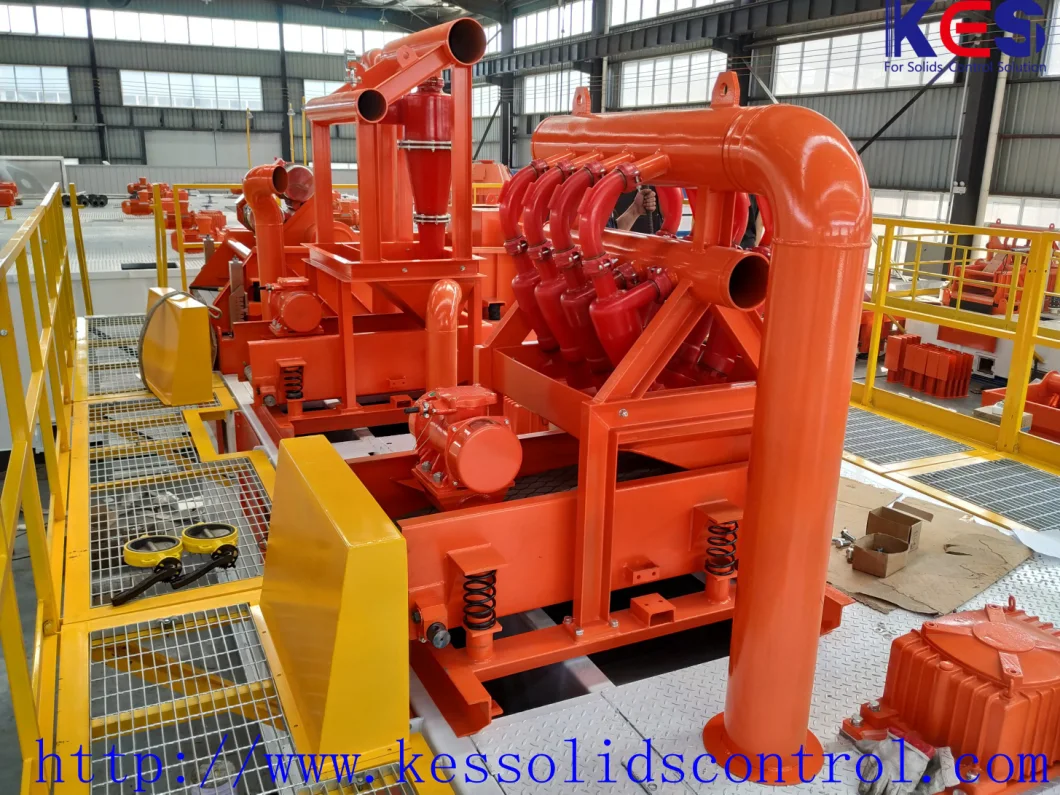 SPECIFICATIONS
MODEL
KAZJ112-8N/12N
KAZJ113-8N/12N/16N
KAZJ114-12N/16N
KAW12N/16N
Cyclone Unit
Treatment Capacity(m³/h)
120/240
120/240/360
240/360
240/360
Desilter Cyclone Size(inch)
4" (DN100)
4" (DN100)
4" (DN100)
4" (DN100)
Desilter Cyclone Qty
8/12
8/12/16
12/16
12/16
Work Pressure(Mpa)
0.25~0.4
0.25~0.4
0.25~0.4
0.25~0.4
Inlet Size(inch)
DN150
DN150
DN150
DN150
Outlet Size(inch)
DN200
DN200
DN200
DN200
Matching Shaker
Shale Shaker Model
KAZS112
KAZS113
KAZS114
Desander Without Bottom Shaker
Vibration Model
Linear
Linear
Linear
Motor Power(kW)
2x0.75
2x1.5
2x1.72
Screen Qty
2
3
4
Screen Size(mm)
750x900
585x1165
585x1165
Screen Area()
1.35
2.04
2.73
Output Force(G)
≤7.1G
≤7.5G
≤7.5G
Double Amplitude(mm)
3.92~5.62
4.14~5.96
4.4~6.34
Deck Angle Adjustment
+2°
-3~+3°
-3~+3°
Weight(kg)
1080/1120
1614/1654/1698
1868/1912
454/500
Dimensions(mm)
1718x1470x1682
2058x1762x2122
2650x1762x2122
1900x830x1585
KES Energy Equipment Manufacturing Hebei Co., Ltd. is headquartered in Dachang, Chaobaihe industrial zone, Langfang city, Hebei province, 28 kilometers away from Beijing capital airport and 165 kilometers from Tianjin Port, with a total floor area of 26,700 square meter, the registered capital of RMB 30 million and turnover more than RMB 80 million. KES is a leading manufacturer involving in the design, R&D, production, sales/aftersales services of mud solids control equipments and systems.
KES sticks to the principal of "Quality for the survival, Technology for the development, trust to win the world and unity to build the future." The goal of KES is to be rooted in China and face the world. KES is awarded with the certificate of API Q1 and ISO9001, and eight advanced patent technology of solids control industry, which have been applied to the domestic and international market successfully with good reputation.
KES products are widely used in different applications and industries such as oil and gas drilling, CBM drilling, geothermal drilling, drilling waste management, river silt treatment, and the modern trenchless infrastructure construction, including tunneling, micro-tunneling, pipe-jacking, bored piles construction, piling construction and diaphragm wall construction., etc.
KES main products are shale shaker, drying shaker, mud cleaner, desander, desilter, decanter centrifuge, vertical cutting dryer, vacuum degasser, mud gas separator, flare ignition device, jet mud mixer, centrifugal pump, shear pump, screw pump, submersible pump, mud agitator, mud gun, mud tank, oil tank, water tank, camping and complete set of solids control systems etc.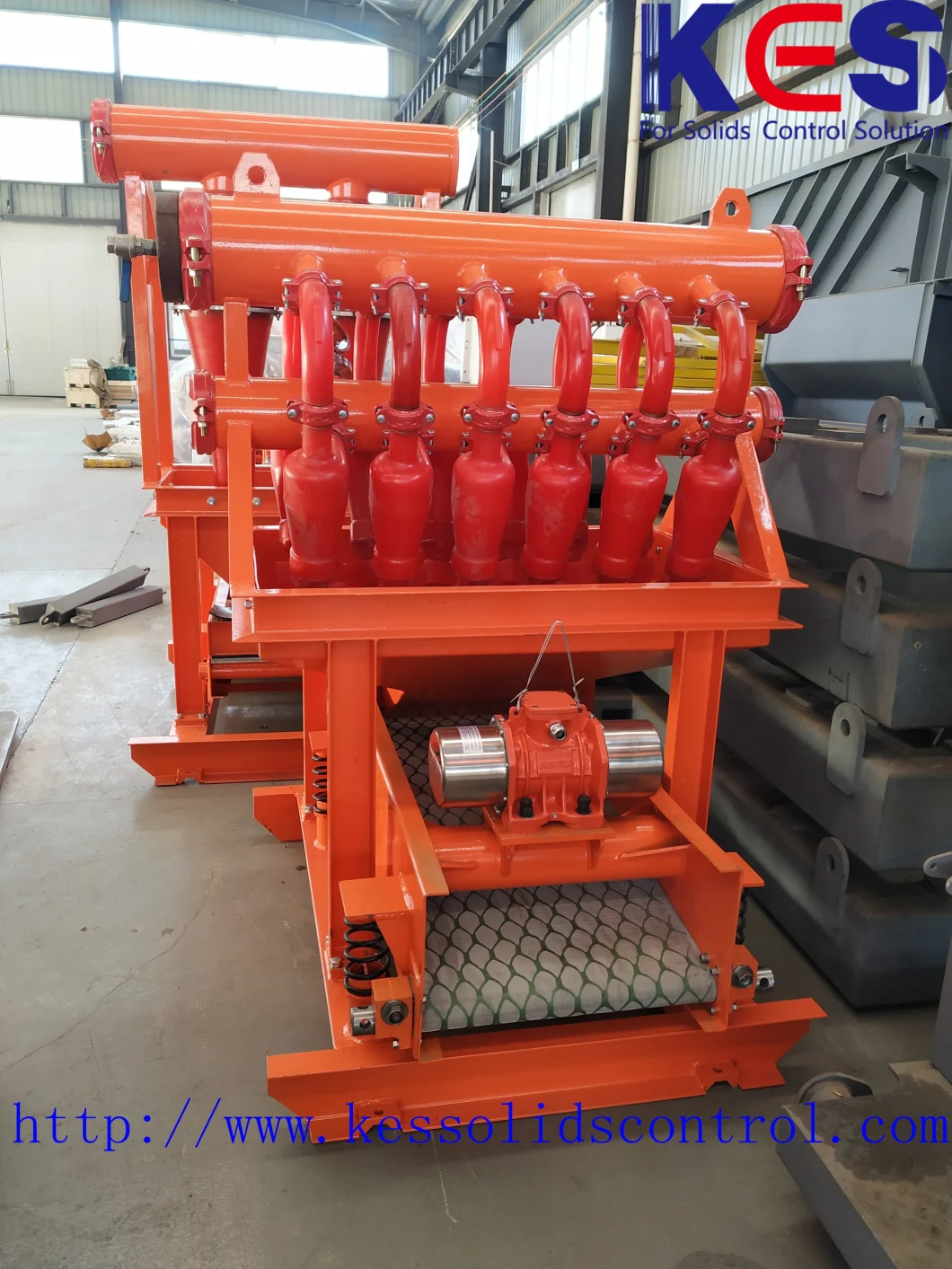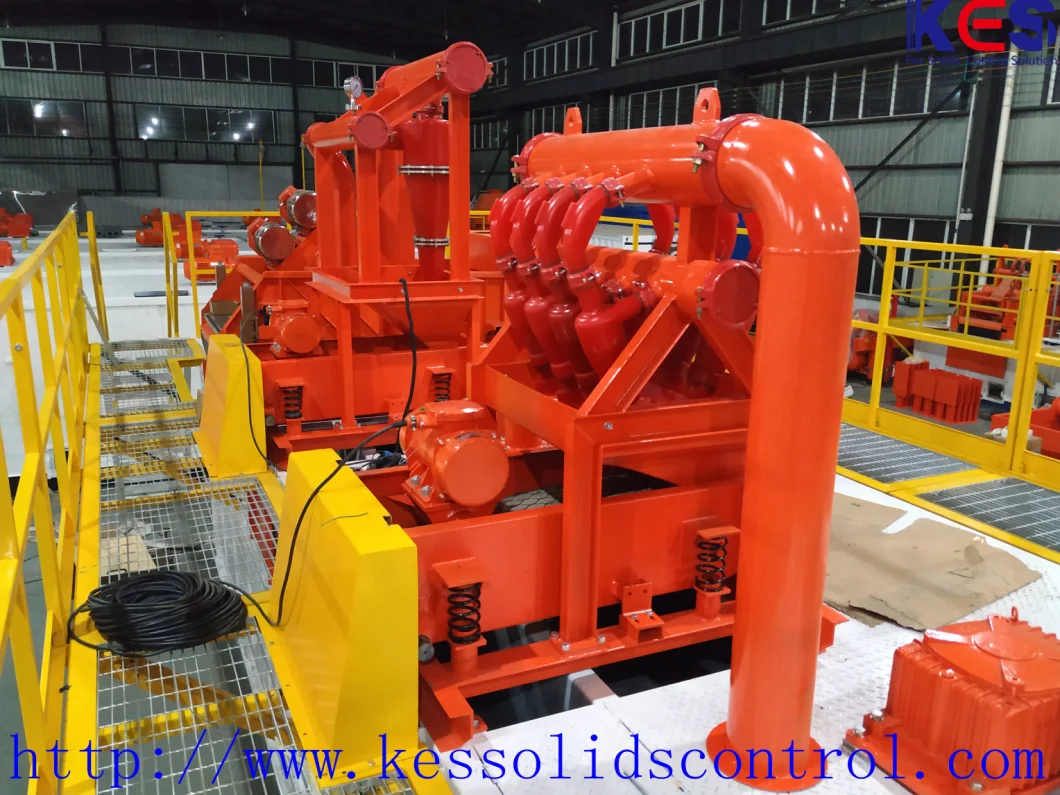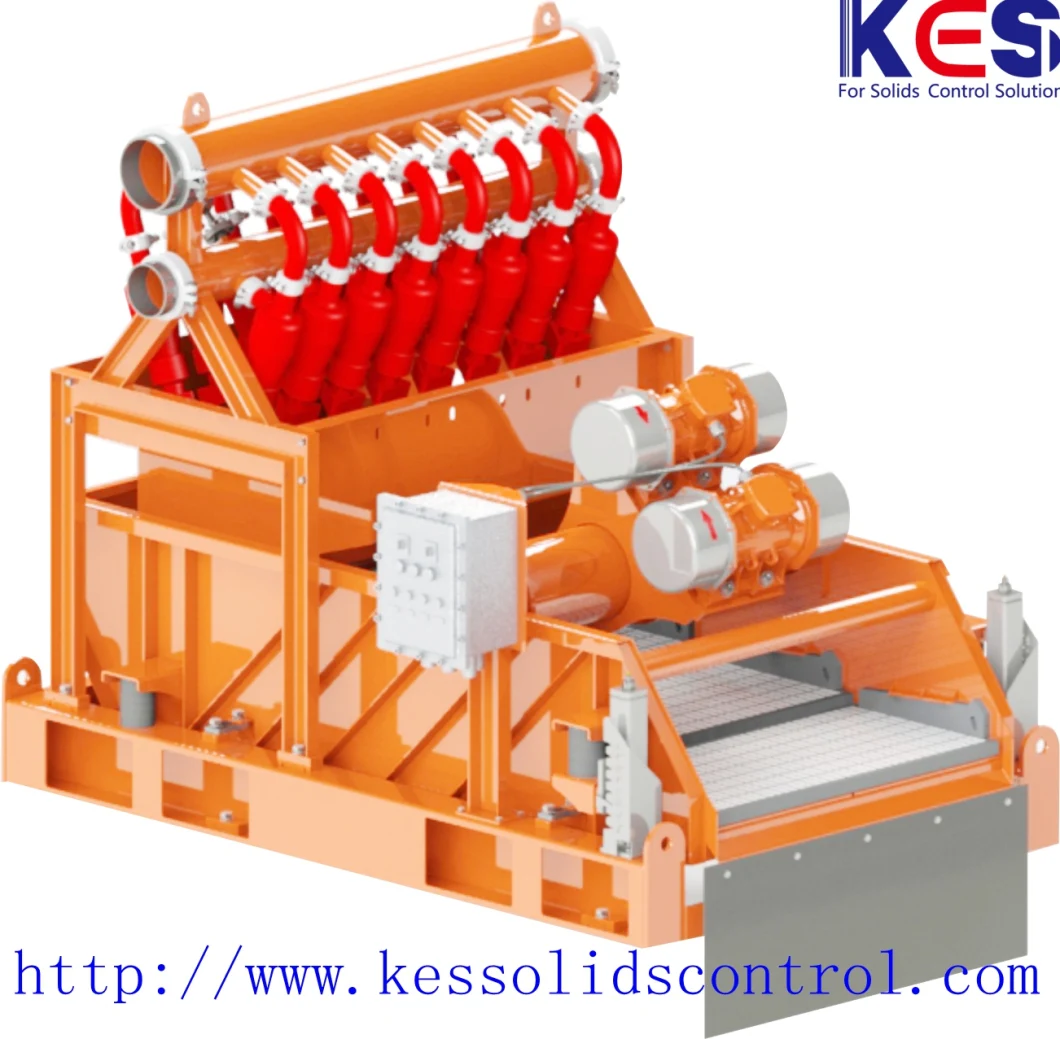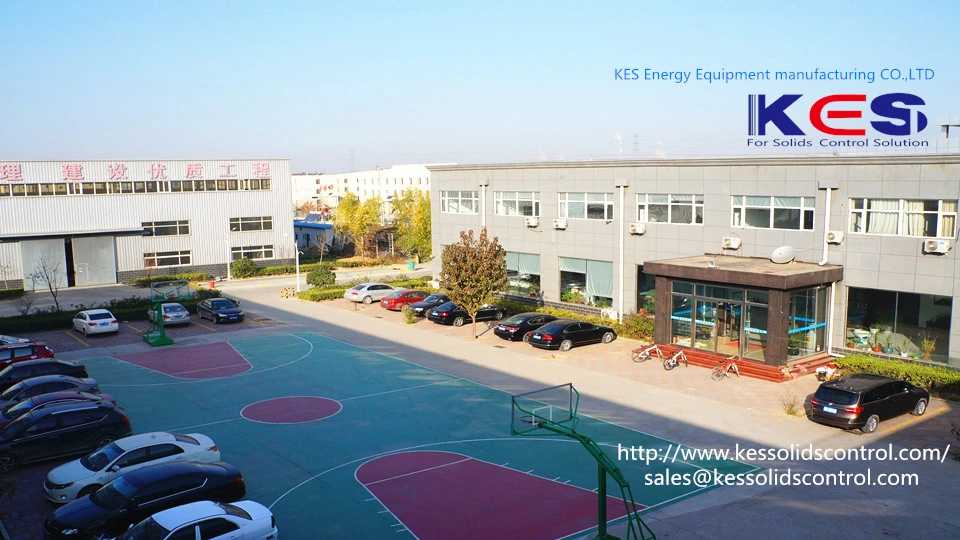 certificate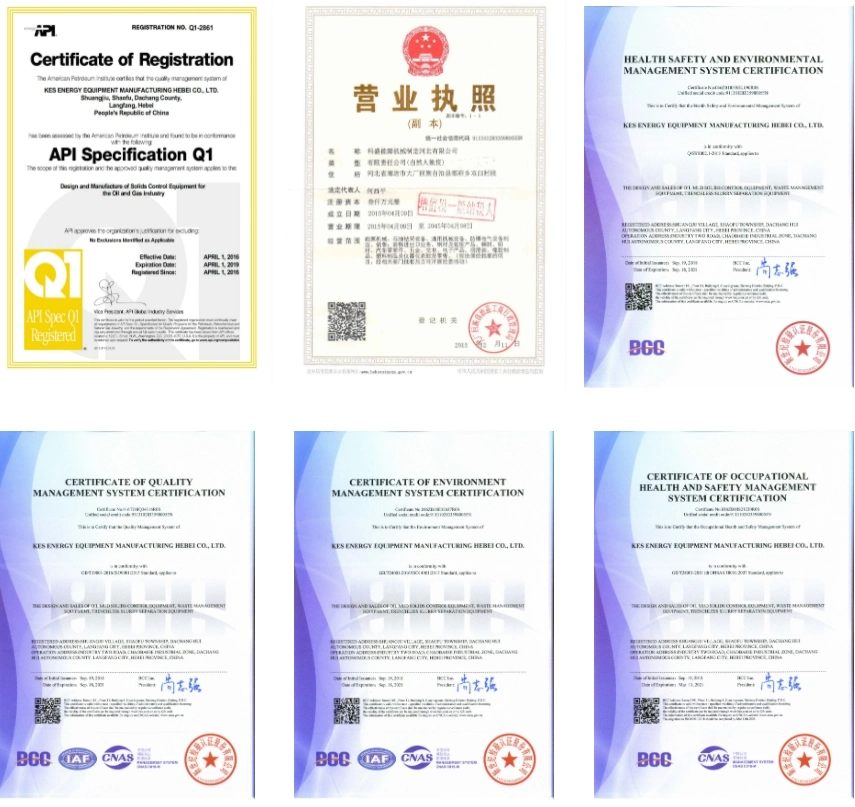 Sale process advantage

Before sale:
(1) On-site inspection: accept factory inspection by customers, and make effective plans according to customers' requirements.
(2) Field simulation: the customer can specify the particle size and viscosity concentration of the material. Our company performs computer practice simulation in accordance with the requirements, and sends on-site viewing video to ensure that the equipment effectively meets the customer's requirements
Sale:
In accordance with the terms of the contract, the on-time production and timely follow-up inspection of contract progress, report the order progress to the customer at any time, strict inspection of product quality, quantity, packaging, to ensure no errors before delivery and timely delivery, while meeting the customer's dual requirements for time and quality.
After sale:
(1) 365*24H video technical services are provided, while professional artificial technicians are always waiting to answer your questions or questions.
(2) The warranty period is up to 14 months after shipment, and our company provides cross-border on-site installation, training and maintenance services.
You are always welcome to send your staff to our company for further study. Our company is responsible for free board and lodging as well as solving language communication problems.
(3) Under special circumstances, our company can send professional technicians to the site within 3 days to help customers solve special technical problems, so as to help each other in business.

CONTACT US
KES Energy Equipment Manufacturing Hebei Co., Ltd. Contact Info
Headquarter in Hebei

1

Telephone

+86-10-80842631

2

Fax

+86-316-8933298

4

Address

Industry Two Road, Chaobaihe Industrial Zone, Dachang, Langfang City, China

Xian Branch

1

Telephone

+86-29-87579681

2

Fax

+86-29-86613026

4

Address

No 3 Fengcheng, Fengcheng Three Road, Xi'an, China

Official Websites

2

Russia

www.kessolidscontrol.ru

Technology/After-sales Services

1

Technical Support

+86-316-5758556

2

After-sales Service

+86-316-5758058