XY-200C shallow water well crawler drilling rig germany

*200 drilling depth, perfect for water wells,and shallow exploration coring projects *Compact structure

*Integrative BW-160 mud pump,greatly improved the whole rig capability *Economical price for Complete Set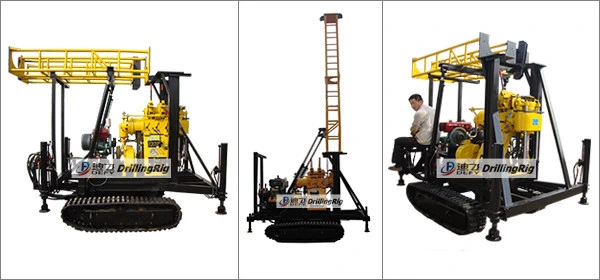 Main Features
1. It can move.
Slide base: It is to make machine move when you need to adjust drilling position.
2. It has different types.
Four-wheel, crawler, according to your situation.
3. Hydraulic control system
With integrative drilling tower, supported by two high strength oil cylinder, hydraulic controlling the rise and fall of the tower. Operation is extremely convenient, saving time and labor effort, creat max. benefit for the user.
4. Different bits
Three-wing Bit, Alloy Bit, Diamond Bit. According to your Geological conditions,we can help you choose suitable bit.

5. Spare parts
We provide factory cost accessory all year round.
About Price

Standard configuration price including: 200m drill rods, hydraulic support, folding tower,a set of 75,130mm drilling tools,28 HP diesel engine.

Price is adjustable as per quantity and size of drill rods and drill bits, we can update the quotation according to your actual demand.
Specifications
1. Main parameter

Drilling depth

200m

Maximum borehole caliber

400mm

Minimum borehole caliber

75mm

Weight(Not include power)

810kg

Unity machine dimension

2750*950*1600mm

2. Vertical Spindle

Spindle rotating speed

64,128,287,557r/min

Spindle stroke

450mm

3. Hoist

Max. single line lifting capacity

1600kgf

Reel lifting speed

17,35,75,151m/s

4. Mud pump

Type

BW-160

Type

Horizontal Single Cylinder with 2 purpose

5. Power

Diesel engine

22HP

Electric

15KW

6. Drilling tower

Type

Integrated on drilling rig

Control system

Hydraulic

7. Trailer chassis

Type

Rubber crawler

Support legs

Mechanical or hydraulic type