| | |
| --- | --- |
| Basical Parameter | |
| Bit Type | 17-1/2" |
| Number of Blade | 6 |
| Primary Cutter Size | Ø19MM ; Ø13MM |
| Cutter Qty/Type | Ø19*55 ; Ø13*49 |
| Gauge Length | 90 |
| Connection | 7-5/8" API REG |
| N.W./G.W.(KG) | 180/230 |
| Nozzle Size(inch) | 16/32;18/32 |
Recommended Diamond and PDC Bit Make-up Torque

Size of Bit

Size&style API Rotary connection

Recommended torque

inch

inch

kft.lbs

KN.m

3-11/16"~4-1/2"

2-3/8" Reg

2.4~2.7

3.3~3.6

4-17/32"~5"

2-7/8" Reg

4.7~5.1

6.3~6.9

5-1/32"~7-3/8"

3-1/2" Reg

7.7~8.4

10.4~11.4

7-13/32"~9-3/8"

4-1/2"

17.8~19.5

24.1~26.5

9-13/32"~14-1/2"

6-5/8"

38.2~42.0

51.7~56.9

14-9/16"~26"

7-5/8"

60.9~67.0

82.5~90.8

PDC ADVANTAGES

PDC Drill Bits are equipped with Hardened Alloy Steel base material;High performance PDC-Cutters;Carbide and Diamond gauge protection;Carbide/Diamond Shock Studs;Threaded or Plain Carbide Nozzles for Flushing
Above features are subject to changes and modifications according to customers' requirements.
The Diamond PDC drill bit designed to run at high penetration rates even in applications that call for higher blade and cutter counts. Its unique cutting structure layout adds another dimension to bit stability and smooth running by combining the penetration rate potential of traditional "single set" cutter layouts with the life extending features of a "plural set" cutter layout. The result is a bit that runs up to 20 percent faster than conventional PDC bits with minimum bit wear.

Diamond bits work across an extended range of weight on bit, penetrating quickly even at low bit weights in softer rock. When formations firm up, the bits can take added weight with a smooth torque response and maintain higher than competitive rates of penetration. The technology is a departure from traditional plural set bits that require higher weights to drill even in soft rock, and are generally durable, but slow, even in harder rock. Traditional plural set bits also can produce an erratic torque response when taking additional weight.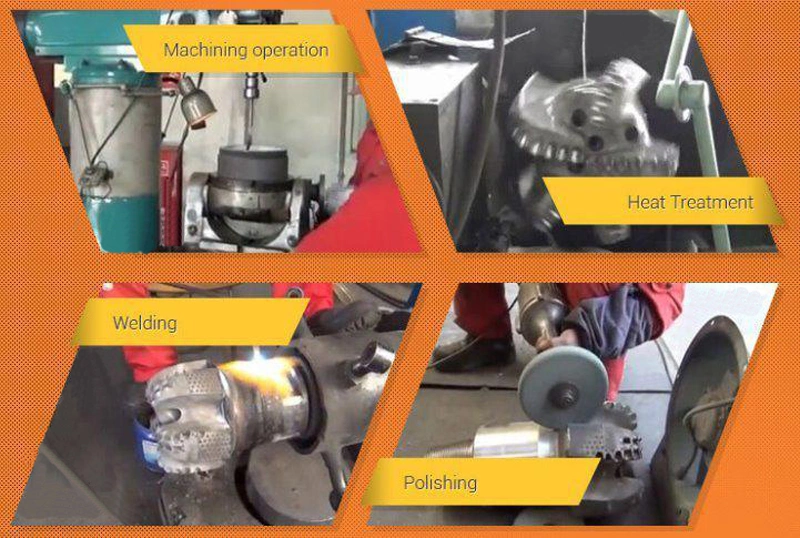 We are a Robert Roschen family owned Global leading manufacturer of rock drilling tools, like Roller Tricone Rock Bits, Hole Opener, Single Cone Roller Bits, PDC Bits, Diamond PCD Tricone Drill Bits, DTH Drilling Tools, such as DTH hammers and bits, DTH drill pipes, RC hammers and bits, tophammer button bits, coupling, cross bits, drill rods located in Germany, China(joint-venture).

We have rich experience in this field of Roller Tricone Bits, PDC Drill Bits, Oil Drilling Toosl, Rock Drilling tools, DTH hammers and bits for 60 years.
Owing to high quality, professional serivce and competitive price, we have gotten good reputation from our customers from all over the world, such as US, Canada, France, Spain, Italy, South Africa, South Latin Amercia, Brasil, Saudi Arabia, UAE, Iran, Malaysia, Australia, etc.




Website: http://roschen.en.made-in-china.com

http://roschen.en.made-in-china.com

http://roschen.en.made-in-china.com





FAQ


Q: Are you a manufacturer or trading company?
A: We are a specialized manufacturer.

Q: How about the delivery terms?
1. Payment: T/T, L/C, Western Union, Paypal, 30% deposit in advance and rest before delivery.
2. Min. order quantity: 1 piece.
3. Transportation: By DHL/TNT/Fedex express, air, sea, train.

Q: How about discount?
A: Price is based on products and order quantity.

Q: Do you accept sample order?
A: Yes sure, please contact us for details.

Q: How about your after-sales service?
A: As a manufacturer, we offer promt technology support for all problems and questions. Besides, we accept goods return or replace for quality problem.

Q: How does your company control the quality?
A: Quality first. In order to guarantee high quality for our products, Roschen always makes a serious inspection for all products and raw materials in strict procedure.