Diamond Bits,Three Wing Bits,Alloy Bits,Tricone Bits and Other Bits for Drilling Project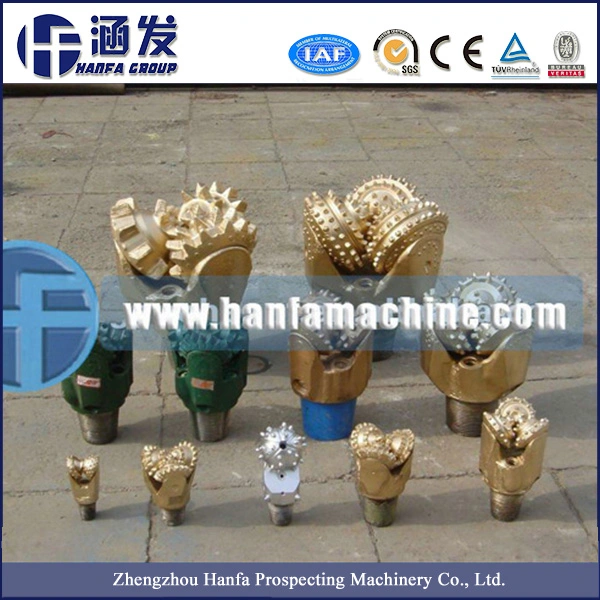 1. Application:
1, Suit for drilling medium to medium-hard formations.
2, Evolute asymmetrical blade cutter design and balanced bit load so that bit whirl is prevented.
3, Composite gage protection and low torque design improve rate of penetration.
4, CFD hydraulic balance design results in better bit cleaning and cutting removal.
5, Combined utilization of high performance PDC compacts significantly prolongs bit life
Higher nozzle counts and/or fixed ports to best serve cleaning, cooling and cuttings evacuation requirements with available hydraulic flows. Allows for higher flow rates with minimal increase in pump pressure.
Feature: Diamonds are impregnated in the matrix behind the PDC cutters
Benefit: Increased footage drilled in abrasive applications
2. Details
Bit type
Main bit size(mm)
Rock coefficient
PDC core drill bit
Single pipe
75/54.5 94/74 113/89 113/109 153/129
1-18
Two-pipes
75/54.5 94/68
PDC center drill bit
Concave 3 wing bit
60 75 94 113 133
1-18
Arc pillar

60 75 94 113 133
4-18
Many wing scraper
60 75 94 113 133 133 153 173 190 215
1-6
PDC Indexable drill bit
153/94 153/113 190/153 190/113
1-18
| | |
| --- | --- |
| Model | 118,152,215.9,244,311,445 |
| Type | all kinds and size PDC bits |
| Applicable | water well, oil field, construction, geothermal, directional boring, and underground foundation work |
| Formation | sticky, soft, medium hard, hard formation |
| blade | 4,5,6,7,8,9 |
| Packing | wooden box |
| Payment Term | T/T |
| MOQ | 1 Piece |
| Supply Ability | 1000 Pieces/month |
| Delivery Time | within 7-15 work days |